Case Name: Jinsheng Group for one yearEdible oil fillingcapacity5010,000-ton project Case
Cooperation unit: Shandong Jinsheng Grain, Oil and Food Co., LTD
Cooperation time:2018years6month & 2021years5month
Products used:5L(containing4L)Automatic bottle blowing filling packing palletizing line(Storage capacity≥6000bottle/H)
5L(containing4L)Automatic filling and packing palletizing line(capacity≥3000bottle/H)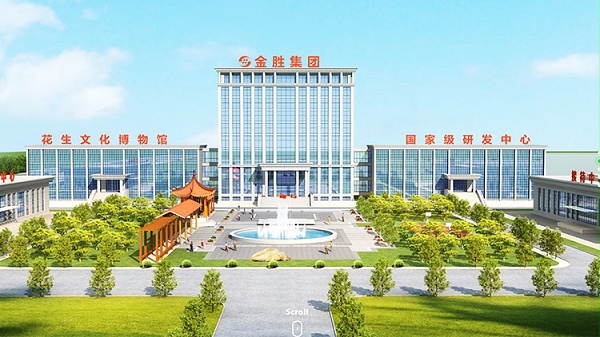 Jinsheng Group was founded in1947It is located in the hometown of peanut in China-Junan County, Linyi, Shandong province, is a collection of peanut oil, biotechnology, foreign trade import and export, catering tourism, e-commerce logistics, ecological agriculture and other businesses as one of the comprehensive group enterprises. To obtain"The first demonstration grain and oil processing enterprise in China","The state mainly supports grain and oil industrialization enterprises","National high-tech enterprise","National demonstration enterprise of agricultural products processing industry","China quality integrity enterprise","Chinese vegetable oil processing enterprises50strong","Chinese peanut oil processing enterprises10strong","China's good grain and oil demonstration enterprise","National key enterprise of agricultural industrialization","Green food enterprise"And so on the title. The main business items and products of the group are:"kingspec"Brand peanut oil and vegetable oils, peanuts, melon seeds, walnuts and beans, total annual output200Ten thousand tons, constant temperature oil depot and storage capacity100Ten thousand tons. Among them, high oleic acid peanut oil, virgin virgin peanut oil and frying special blend oil are the company's main series of high-end oils, and its products and production process have won the national invention patent.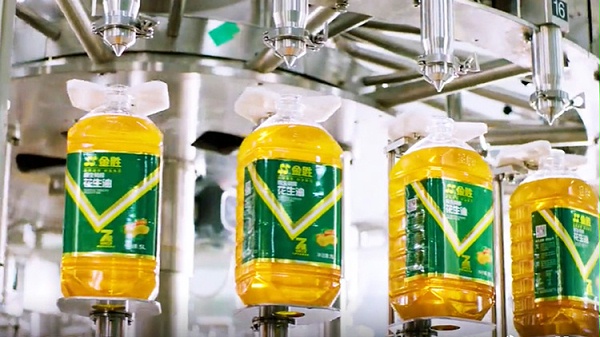 Automatic filling workshop, total7A production line, annual comprehensive filling capacity50From injection molding, bottle blowing, labeling, weighing and filling, lamp inspection, packing, sealing, robot palletization to three-dimensional intelligent warehouse, the whole process is started by one key, fully intelligent operation, single high-speed assembly line filling every hour5LBottled peanut oil6000Bottle, all the parts of the workshop involving manpower are operated by intelligent robot arm, and the assembly line is equipped with one thing one code traceability system.
The production line of its filling workshop is Guangdong Jianbang Machinery Co., LTD(To build the skill)Construction and manufacturing, installation, commissioning and operation of production.
Process flow chart of production line:

Jianji machinery co., Ltd. equipment in the traditional cooking oil packaging production line process innovation, including rotating(A straight line)Blow bottle, label, spin(A straight line)Weighing and filling, spinning cap, liquid nitrogen and nitrogen filling, sharing of different lifting rings, unpacking, detection, robot multi-functional stacking, online loading, docking three-dimensional storage and other processes.
Jiji grease equipment has the advantages of reliable quality, high degree of automation, independent research and development and design. According to your needs to customize various configurations of grease equipment and production line equipment,25LThe whole line of small packaging equipment, you need, welcome to inquire.
Guangdong Jianbang Machinery Co., LTDFounded in2006 Years to2015 Was identified as the national high-tech enterprise, mainCIPSystem,SIPsystem,UHTSterilizing machine, straight line blowing machine, filling machine, conveyor belt and other products, and supply complete pre-treatment, filling and packaging line equipment. The company has many years of experience in the whole line design, supply and integration, with a group of experienced technical team.