Bottle blowing machineIt refers to the bottle blowing machine, the simple explanation is to be able to blow plastic particles or good bottle embryo through certain technological means into the bottle machine. The bottle blowing machine is convenient and fast, and has large molding capacity. After it appears, it has replaced most of the manual blowing bottles and been adopted by most beverage enterprises. Next jianbang machinery xiaobian take you to understand in detail.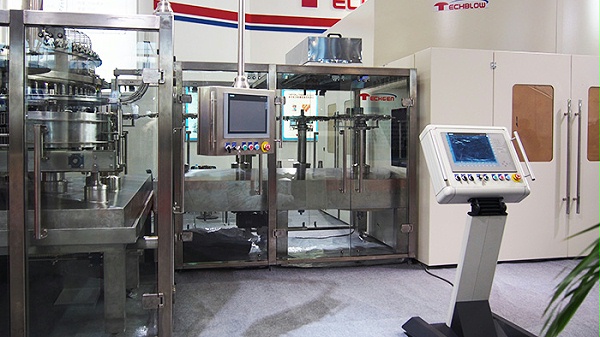 Bottle blowing machine is a kind of equipment that makes plastic particles into hollow containers by blow molding processPPandPEA one-time molding hollow extrusion blower is usedPET.PCorPPDouble molding injection pull blowing bottle machine, as well as the newly developed multi-layer hollow extrusion blowing and stretching blow molding.
Most bottle blowers are two-step ones, in which the plastic material must be formed into a bottle embryo and then blown. It is commonly used todayPETMaterial of environmental protection plastic. Blow molding machine: after the liquid plastic is sprayed out, the machine blows out the wind, the plastic body is blown to a certain shape of the cavity, so as to make products, this machine is called blow molding machine. Is also a bottle blowing machine, that is, hydraulic bottle blowing machine.
Thermoplastic resin by extrusion or injection molding of the tubular plastic form, while hot(Or heated to a softened state), placed in the split mold, immediately after the mold closed in the blank into compressed air, so that the plastic blank blowing and close to the inner wall of the mold, after cooling demoulding, that is, to get a variety of hollow products.
Guangdong Jianbang Machinery Co., LTDFounded in2006 Years to2015 Was identified as the national high-tech enterprise, mainCIPSystem,SIPsystem,UHTSterilizing machine, straight line blowing machine, filling machine, conveyor belt and other products, and supply complete pre-treatment, filling and packaging line equipment. The company has many years of experience in the whole line design, supply and integration, with a group of experienced technical team.