Case name: Beijing Dabao daily chemical filling production line project
Partner: Beijing Dabao Cosmetics Co., Ltd
Cooperation time: May 2021; October 2021
Beijing Dabao Cosmetics Co., Ltd. was established in 1999 as a result of the successful joint-stock transformation of Beijing Sanlu factory (Beijing Sanlu factory was founded in 1985). Johnson & Johnson (China) Investment Co., Ltd. completed the acquisition of Beijing Dabao Cosmetics Co., Ltd. on July 30, 2008. Beijing Dabao brand and company officially became a member of the Johnson & Johnson family. Since then, Johnson & Johnson's creed has guided the new Dabao company to fully realize its responsibilities to customers, employees, society and shareholders.
Over the years, Dabao company has always adhered to the principle of "value for money, serving the public, pushing through the old and bringing forth the new, and constantly meeting the changing consumer demand." Since its birth in 1985, Dabao series cosmetics have adapted to the consumer needs of different periods and levels. Born in 1990, Dabao brand "SOD honey" and its subsequent "Beauty Day Cream" and "SOD protein honey" have become well-known products in the Chinese market. Since 2009, Dabao company has successfully launched new products such as "SOD moisturizing cream", "SOD refreshing moisturizing lotion" and "refreshing moisturizing cleanser", providing consumers with more value-added choices.
The new daily chemical automatic filling production line is constructed, manufactured, installed and commissioned by Guangdong Jianbang Machinery Co., Ltd. and Guangdong Jianrong Intelligent Equipment Co., Ltd. The accuracy of the customer's original equipment is 1.5%, the capacity of the new production line reaches 6000 pieces / hour, and the filling accuracy reaches 0.3% g. it is calculated according to the production of 100 million bottles last year, saving 120 million grams, with high accuracy, creating an output value of 4 million for the customer. The automatic filling production line has been cleaned and verified by the Johnson & Johnson SIP / CIP inspection system, reaching the Johnson & Johnson standard, which has been unanimously recognized and praised by the customer.
Physical picture of automatic filling production line in Dabao production workshop: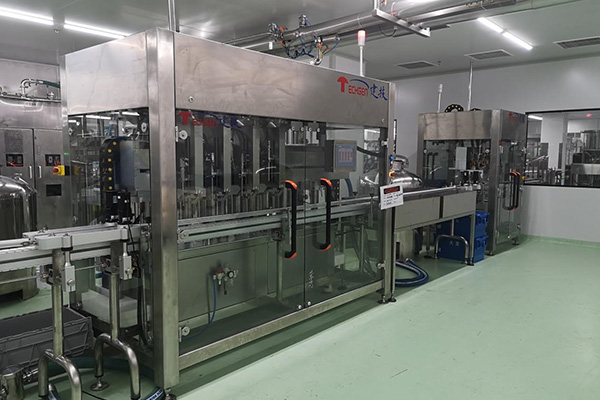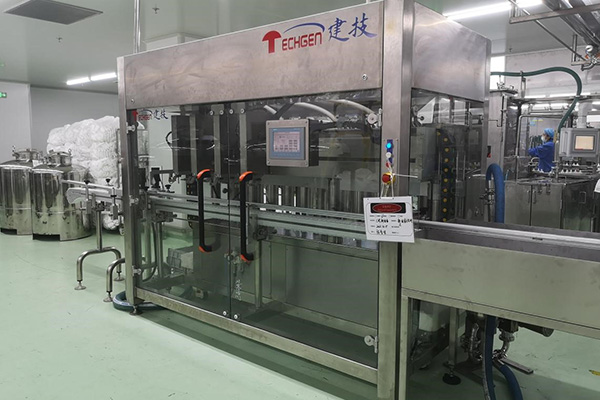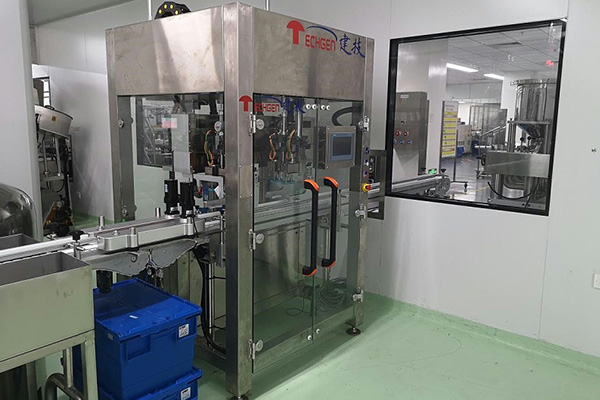 Advantages and features of the production line: the equipment of Jianbang Machinery Co., Ltd. and Jianrong Intelligent Equipment Co., Ltd. innovate in the traditional daily chemical production line process, including follow-up filling and follow-up screw cap. The traditional seal ring piston type is changed to zirconia ceramic rotary valve, piston and filling nozzle, so as to avoid the introduction of foreign matters caused by seal ring aging or material corrosion, At the same time, ensure the filling accuracy. The whole equipment adopts the motion servo control system, which is simple and convenient to adjust the machine, and realize the rapid switching of products within 15 minutes.
Jianbang machinery and Jianrong intelligent equipment have the advantages of reliable quality, high degree of automation, independent R; D and design. Jianbang machinery and Jianrong intelligent equipment can provide standard and customized daily chemical automatic filling and packaging equipment and production line equipment according to your needs, which are suitable for small batch and multi batch water, milk and cream equipment in current OEM / ODM factories. If you have any process problems in daily chemical and beauty industry, please consult, We aim to provide customers with high-quality automatic production line solutions and 24-hour comprehensive service to make customers worry free after-sales.